About
Clarinettist, conductor and Sony Classical recording artist, Martin Fröst is known for pushing musical boundaries and has been described by the New York Times as having "a virtuosity and a musicianship unsurpassed by any clarinettist — perhaps any instrumentalist — in my memory".
---
Widely recognised as an artist who constantly seeks new ways to challenge and reshape the classical music arena, his repertoire encompasses mainstream clarinet works, as well as a number of contemporary pieces that he has personally championed. Winner of the 2014 Léonie Sonning Music Prize, one of the world's highest musical honours, Fröst was the first clarinettist to be given the award and joined a prestigious list of previous recipients including Igor Stravinsky and Sir Simon Rattle. International Classical Music Awards voted him their 2022 Artist of the Year Award for his innovative global career, his impressive discography, and his philanthropy.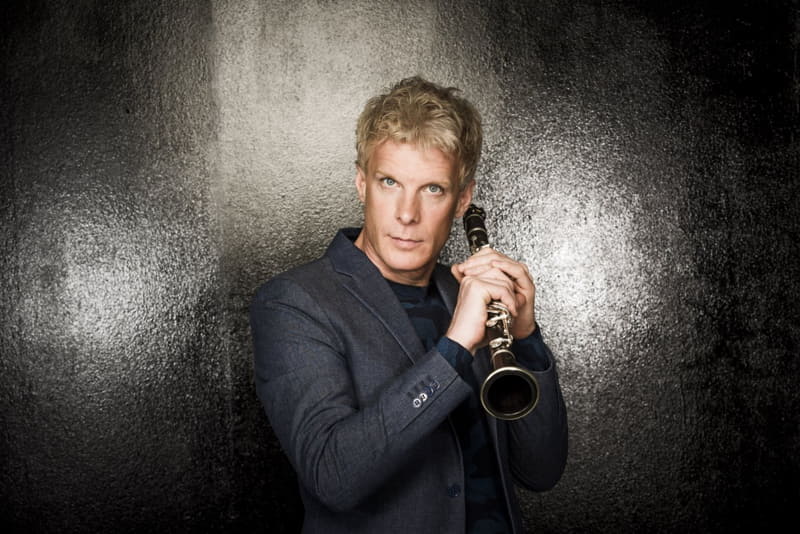 ---
Fröst was announced the Artist in Residence with the Royal Concertgebouworkest for the 2022/23 season, the first ever wind player to be given that honour. The residency include season opening concerts with Alain Altinoglu; the world premiere of Anna Clyne's Clarinet Concert with Jaap van Zweden; and exciting performance of Sally Beamish double concerto with Janine Jansen and Klaus Mäkelä as well as chamber music projects interspersed throughout the season. In 2022/23 Fröst continues to focus on his activities as Chief Conductor of Swedish Chamber Orchestra, including SCO Festival "Fröstivalen", concerts with international guest artists, recording projects and highly anticipated European tour in early 2023. Other highlights of this season include a residency at Wigmore Hall, returns to the Royal Festival Hall with Philharmonia Orchestra and Pekka Kussisto and to Berlin with RSB Berlin and Lahav Shani as well as a conducting debut with Swedish Radio Symphony Orchestra.
Schedule
---
Featuring
Martin Fröst clarinet
Concerto Köln

Program
Program with Vivaldi

---
Featuring
Martin Fröst conductor / clarinet
Concerto Köln

Program
Martin Fröst - Dance Mosaic
Interval
Johannes Brahms - Symphony No. 4 in E Minor, Op. 98
---
Featuring
Martin Fröst clarinet

Elim Chan conductor
Antwerp Symphony Orchestra

Program
John Adams - The chairman dances
Anna Clyne - Weathered
Pyotr Ilyich Tchaikovsky - Symphony No. 4, Op. 36
---
Featuring
Martin Fröst clarinet

Elim Chan conductor
Antwerp Symphony Orchestra

Program
John Adams - The chairman dances
Anna Clyne - Weathered
Pyotr Ilyich Tchaikovsky - Symphony No. 4, Op. 36
---
Featuring
Martin Fröst clarinet

Elim Chan conductor
Antwerp Symphony Orchestra

Program
Wolfgang Amadeus Mozart - Clarinet concerto in A Major, KV 622
Pyotr Ilyich Tchaikovsky - Symphony No. 4, Op. 36
---
Featuring
Martin Fröst clarinet

Lahav Shani conductor
Orchestre de Paris

Program
Wolfgang Amadeus Mozart - Clarinet concerto in A Major, KV 622
Gustav Mahler - Symphony No. 6 in A minor, 'Tragic'
---
Featuring
Martin Fröst clarinet
Orchestre de la Suisse Romande

---
Featuring
Martin Fröst clarinet

Sébastien Dubé double bass

Members from the Orquesta Sinfónica de Castilla y León

Program
Wolfgang Amadeus Mozart - Clarinet Quintet in A major, K581
Selections from the album 'Night Passages'
---
Featuring
Martin Fröst clarinet

Ryan Bancroft conductor

Sinfónica de Castilla y León

Program
Anna Clyne - Weathered
Jean Sibelius - Suite Lemminkäinen, o "Cuatro leyendas del Kalevala", op. 22
---
Featuring
Martin Fröst clarinet

Jukka-Pekka Saraste conductor

Helsinki Philharmonic Orchestra

Program
Anna Clyne - Weathered (first performance in Finland)
Anton Bruckner - Symphony No. 8 (1890, ed. Nowak)
---
Featuring
Martin Fröst clarinet

Jonathan Nott conductor

Orchestre de la Suisse Romande

Program
Wolfgang Amadeus Mozart - Concerto for clarinet and orchestra in A major, KV 622
Anton Bruckner - Symphony No. 2 in C minor (version 1877)
---
Featuring
Martin Fröst clarinet / conductor

Swedish Chamber Orchestra

Program
Johannes Brahms - Symphony No. 4 in e minor, Op. 98
---
Featuring
Martin Fröst clarinet / conductor

Jeanine De Bique soprano

Swedish Chamber Orchestra

Program
Johannes Brahms - Symphony No. 4 in E minor, Op. 98 Additional program to be announced
---
Featuring
Martin Fröst conductor

Magnus Holmander clarinet

Swedish Radio Symphony Orchestra

Program
Jacob Mühlrad - Clarinet Concerto (world premiere)
Felix Mendelssohn - Symphony No. 3 in A minor, Op. 56
---
Featuring
Martin Fröst clarinet

Pascal Rophé conductor

Orchestre National Capitole Toulouse

Program
Igor Stravinski - Le Chant du Rossignol, poème symphonique
Michael Jarrell - Passages, Clarinet Concerto
Claude Debussy - Première Rhapsodie
Igor Stravinski - Scherzo fantastique, Op. 3
Paul Dukas - L'Apprenti sorcier, scherzo symphonique
---
Featuring
Martin Fröst clarinet

Pascal Rophé conductor

Orchestre National Capitole Toulouse

Program
Igor Stravinski - Le Chant du Rossignol, poème symphonique
Michael Jarrell - Passages, Clarinet Concerto
Claude Debussy - Première Rhapsodie
Igor Stravinski - Scherzo fantastique, Op. 3
Paul Dukas - L'Apprenti sorcier, scherzo symphonique
Videos
Vivaldi - Concerto for Clarinet & Orchestra No. 1
Chick Corea - Armando's Rhumba
Martin Fröst plays Klezmer Dance No. 2
Rameau: Air pour les Sauvages (for clarinet, piano & double bass)
Messiaen - Quatuor pour la Fin du Temps
Anders Hillborg - Clarinet concerto